Budapest Va

cation

Service...

Budapest

Art Nouveau and Art Deco Buildings



We aim to provide not only first-class
Budapest
vacation rental accommodation

, but to give our site visitors useful advice and information.
Budapest is well-known for its beautiful architectural treasures and in particular its many Art Nouveau and Art Deco buildings, which can be found throughout the Budapest city centre.
Budapest Visitor Advice and Tourist Information
Art Nouveau Buildings in Budapest - Bedő-Haz - The House of Hungarian Art Nouveau

Budapest has many examples of beautiful Art Nouveau buildings, however one of the most remarkable is the Bedő-Haz,
(

Magyar Szecesszió Háza

) which is located at Honvéd utca 3 in Budapest's downtown 5th. District.

The house was built
in 1903
for the Bedő family
by architect Emil Vidor (1867-1952), influenced by the styles of the Belgian architects Horta and Hankar.

Although not directly damaged by the Siege of Budapest in 1945 nor by the Hungarian Revolt in 1956, the lower part of the building underwent several changes and parts of the exterior fell into disrepair. Renovation to its former glory began in 1997.

The upper floors of the building function as residential apartments and the ground floor has been converted for use as a 600 square meter permanent Art Nouveau museum and a traditional Art Nouveau style coffee house.

Temporary exhibitions are held regularly on the building's lower level, in addition to artistic round-table discussions with guest speakers and turn of the century music programs, which are held on the last Saturday of each month.

---
---
---
---

Pre- and post renovation. Click image to enlarge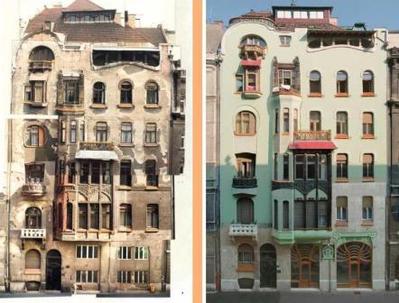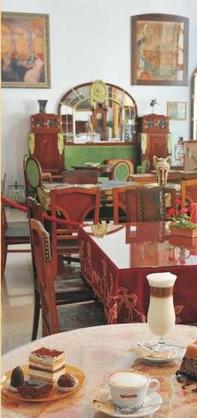 Art Nouveau Café and Museum - A
Nostalgic
Visit to Budapest's Golden Age


A visit to the

Art Nouveau Café

is just like taking a nostalgic trip back in time to the start of
the 20th. century in the special
atmosphere of
Bourgeois life in Budapest.


While you're visiting the Bedő-Haz, why not stop into the café, enjoy a cup of coffee, tea or hot
chocolate, with a freshly baked croissant or a home-made pastry, and experience the warm and
friendly atmosphere - while
surrounded by original Art Nouveau furnishings?
See Menu
A visit to the adjoining 600 square meter museum, with its fine collection of contemporary furniture,
decorative objects, paintings and instruments is an absolute must for lovers of Art Nouveau style.



Tourist Tip:

If you're visiting either the Hungarian Parliament building or US Embassy,
the Art Nouveau Café and Museum is just a few short minutes walk away.



How to get there: (See location map on left)


Metro Line 2 (Red line), Kossuth tér station
Metro Line 3, (Blue line) Arany János utca station
Tram: Number 2



Opening Times:

Monday to Saturday 10:00 - 17:00. Closed on Sundays.

Museum Admission Charge:

Adults: 1500 Ft. Senior citizens, students: 1000 Ft.
Budapest card holders: 750 Ft., Legenda card holders: 800 Ft.
Free admission for children aged 6 and under

Visit
http://www.magyarszecessziohaza.hu/mainen.php
for full details and information
Two more examples of stunning Budapest Art Nouveau buildings.

Left: The Gutenberg House

Right: Franz Liszt Academy of Music