Budapest Va

cation

Service

...Budapest Public Transport and Taxis Advice
At Budapest Vacation Service our aim is not only to provide first-class Budapest apartments in holiday flats and vacation rental accommodation, but to give useful advice, hints and tips to ensure an enjoyable, interesting and safe holiday in Budapest.
See useful information here concerning the

Budapest Public Transport
s

y
stem and Taxi services
Copyright ©2009, All rights reserved
Budapest Public Transport


Travelling by public transport in Budapest is fast, reliable and fairly inexpensive.

Budapest has an extensive network of public transport services, operated by BKV Zrt., which includes
underground trains (Metro),
buses, trolleybuses, trams. Overground trains (HÉV), which serve the suburbs of Budapest, extend north to Szentendre, east to
Gödöllő and Csömör and to
Csepel and
Ráckeve in the south.
See full map of the metro, tram and overground train systems here
Operating hours



For operating hours and frequency, please refer to the BKV web site at: http://www.bkv.hu/english/home/index.html#



Tickets



Tickets for travel are available at metro stations and from vending machines at several bus and tram stops in the city, and should be bought before boarding. There are several options available, from a single ticket to 1, 3 and 7 day travel cards and monthly passes.

Full list of fares and options can be viewed here




Free of charge for Pensioners



Upon production of a valid identification document, such as passport, photo ID card etc., citizens of member states of the European Union, EEA Menber States and Switzerland over the age of 65 years can travel free of charge on BKV services.



Important - Very Important!



Tickets need to be validated at the start of each journey. Ticket validation machines are located at metro stations, usually coloured orange and located at the top of the escalator or at the entrance to the platform, and on buses and trams, these are either red or orange and are located on the upright hand-rails, close to the doors.

Each ticket is valid for

one single sector

of the total journey. If, for example, the journey involves
a change of bus or tram route,

a new ticket for each sector must be validated

. Metro tickets
have a validity period of one hour and change of metro line within the time limit is allowed.
It is essential to validate a ticket before travel and to retain this ticket for some minutes after
disembarking.

At metro stations, BKV inspectors are present at the entrances and often exits of metro stations,
and frequently board buses and trams to check passengers tickets. Inspectors may, or may not
be in uniform and will produce a blue or red BKV armband when they start their inspections.

Failure to validate a ticket will result in a penalty, presently (since 1. January 2012) 8,000 Hungarian Forints (about 28 Euro), if paid to the BKV inspector on-the-spot, and the process may delay your journey. If you are unable or unwilling to pay at the time of the offence, the fine is increased to 16,000 Hungarian Forint. The inspector is obliged to show his BKV identification card and issue a receipt for any penalty paid. BKV inspectors have little sympathy for visitors claiming that they did not know the rules and will often threaten to call the police should any passenger caught without a valid ticket refuse to pay the fine.



Note:

Metro station ticket offices can close several hours before the last metro train departs.
You should therefore buy a ticket or pass in advance if you need to travel during the evening hours or be sure to have change for ticket vending machines.

A full list of metro station opening hours can be viewed here

For more information on the Budapest Public Transport system and an explanation on how to validate tickets, watch this useful clip.

Illuminated taxi rank sign - usually mounted on a pole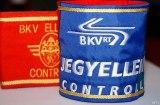 Budapest Public Transport Single Journey Ticket. Cost 350 HUF at metro stations or 450 HUF in bought on bus.
A book of 10 single tickets costs 3,000 HUF (2013 prices)

Budapest Public Transport 24 Hour Travel Card. Cost HUF 1,650 (2013)

Budapest Public Transport 72 Hour Travel Card. Cost HUF 4,150 (2013)
Budapest Taxis



Traveling across the city generally takes longer than by public transport due to the volume of traffic in Budapest, bridge closures etc., however if you decide to take a taxi, the following should be noted:



You should always ask the price for the trip before the taxi starts the journey

.

The drivers are obliged to use their meter and you can insist that they do. If you hail a taxi on the street, the price may be substantially higher than if you pick one up at a taxi rank, even if the meter is used.

If you have to hail a taxi on the street, try to get one with a yellow number plate and a taxi company name on the doors and a tariff list inside the car, usually on the rear window and again on the dashboard.

In addition to taxi ranks, taxis can be found outside most major hotels, shopping malls and railway stations.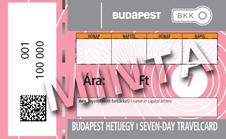 Budapest Public Transport 7 Day
Travel Card. Cost HUF 4,950 (2013)
Budapest Public Transport 24 Hour Group Travel Card. Cost HUF 3,300 (2013).
Valid for up to 5 persons travelling together in the same vehicle