Budapest Va

cation

Service
Our aim is not only to provide first-class

Budapest apartments

in downtown vacation rental accommodation, but to give useful advice, hints and tips to ensure our guests have an enjoyable, interesting and safe visit to Budapest. See below for some important tourist information, advice and warnings on changing your cash into Hungarian currency.
Hungarian Currency



The Forint (sign: Ft; code: HUF) is the currency of Hungary. The introduction of the Forint on 1 August 1946 was a crucial step of the post-WWII stabilization of the Hungarian economy, and the currency remained relatively stable until the 1980s.
The transition to market economy in the early 1990s deteriorated the value of the Forint and inflation peaked at 35% in 1991.
Since 2001, inflation is single digit and the Forint was declared fully convertible. The Forint is the only currency once used by a socialist European state that is still in circulation.
As a member of the European Union, the long term aim of the Hungarian government is to replace the Forint with the euro.(Source; www.wikipedia.org)

There are presently six Hungarian Forint notes of different denominations: 500, 1,000, 2,000, 5,000, 10,000 and 20,000 Forints.
Due to the large number of zero's and in order to avoid any 'expensive' mistakes, it is worthwhile to familiarize yourself with the look of the various bank notes.

The illustrations below show the six different types, both front and rear views.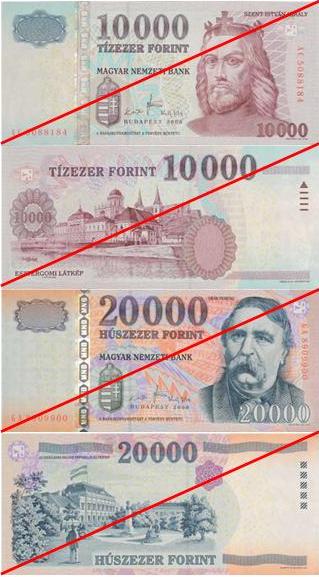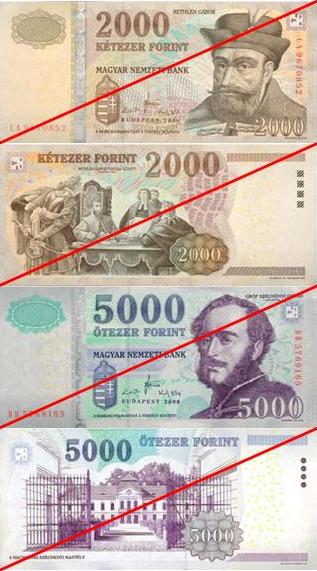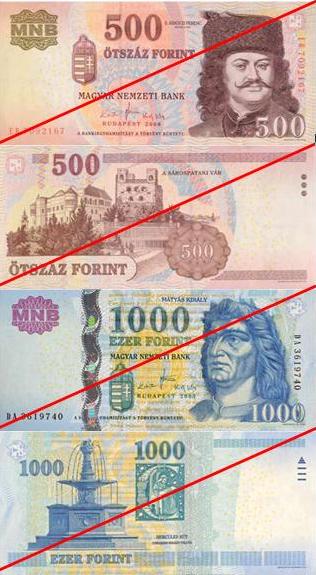 Currency Exchange Advice



We recommend that you have some Hungarian currency with you before traveling to Budapest, either for public transport, taxi or parking meters.

Although the airport and train stations in Budapest do have exchange offices, the rates offered can vary

substantially

from those available in Budapest city centre.

ATMs are available throughout the city for drawing Hungarian currency with your credit card, however you should check the charges for withdrawing cash outside of your own country with your card issuer.

You should

never

change currency on the street and should only use official exchange offices or banks.

Rates can also vary quite considerably between the various Budapest exchange offices located around the city.

The exchange office which we have found that consistently offers the best rates is located at Szervita Square 4.



Of course, we recommend that you take a walk around and compare rates, especially if changing large amounts of money.