Budapest Va

cation

Service

...Nyugati
Pályaudvar
Railway Station
Browse our Budapest vacation rentals for
holiday, corporate and dental tourism accommodation,
with rates starting from as low as 35€ a night, fully inclusive. ​
Budapest accommodation from cosy studios for 2-3 guests up to large apartments for 10 guests. Both budget and luxury apartment options are available in best Budapest Downtown locations.
[netinsert=0.0.1.10.11.7.1]
- FC2EF5963D87FB137A885E47F91FEFEB

At Budapest Vacation Service, our aim is not only to provide first-class Budapest accommodation for rent, but to give useful

visitor advice

,

tourist information

, hints and tips to ensure our guests have an enjoyable, interesting and safe visit.

For visitor advice and tourist information, please visit our Visitor Advice and Budapest Info pages. If you can't find the information you're looking for, please don't hesitate to Contact Us.
Budapest Nyugati Pályaudvar Railway Station

Located at the junction of the Grand Boulevard (Nagykörút) and Bajcsy-Zsilinszky út, where Budapest districts V, VI and XIII meet,

Nyugati Pályaudvar Railway Station

is also known as
Nyugati p.u.
or
the Budapest Western Railway Terminal
, and is one of the three main railway terminals in the centre of Budapest.

Nyugati Pályaudvar was designed by August de Serres and constructed between 1874 and 1877 by the Eiffel Company of Paris, (famous for the design and construction of the Eiffel Tower) using an iron structure, which had been pre-cast in Paris and transported to Budapest.

There are several reasons why a visit to Nyugati Pályaudvar is on many visitor's list of places to see in Budapest.
Firstly, the station itself, which, probably due to a need for renovation, seems to maintain an atmosphere of bygone days, in particular the ticket hall, which can be found by walking through the corridor located between the main station entrance and

McDonald's

on the right-hand side of the main entrance.

Formerly the station restaurant, this McDonald's
is reputed to be the most elegant
in the world. Apart from the ornate lighting, ceiling mouldings and general décor of the fast-food restaurant, Nyugati station McDonald's has a
McCafé on the
mezzanine floor, serving coffee and cakes in a more comfortable environment than the lower floor. A large outside terrace, with tables and seating is located behind the building with a view to Eiffel Square, a recently developed area with
restaurants and
stores, including a Tesco Express and a landscaped, grassy area.


Although thousands of travellers walk past the doors every year, many are not aware of the

Royal Waiting Room

.

Originally built for Emperor Franz Joseph I (b.1830 d.1916) and his wife, Elizabeth ("Sisi") (b. 1837 d.1898), this ornate waiting room is not accessible to the public, however is used occasionally for receptions or special events and to receive passengers arriving to Budapest on luxury train tours, such as the Orient Express, where they are welcomed with a glass of champagne before venturing out into the city.

The

Royal Waiting Room can be found about 100 meters on the left-hand side after entering the main station hall and can be identified by a pair of rather high doors, with a marble plaque with Latin inscription,

Viribus Unitis

above and iron/glass lamps on either side. The shabby condition of the exterior of this area is in total contrast to the plush interior.


Note:

Viribus Unitis

means "With United Forces". This was the personal motto of Emperor Franz Joseph I.

The

WestEnd City Center

, one of Budapest's main shopping malls is located j
ust a few minutes walk away from the station.

With more than 400 stores, 14 cinemas and a food hall with numerous bars, cafes and restaurants, the WestEnd City Center is reputed to be one of Central and Eastern Europe's largest shopping malls.
Tip:

While you're visiting Nyugati Pályaudvar, why not take a walk down Szent Istvan Boulevard to the Margaret Bridge and onto Margaret Island. From there, return to the city center either by foot (about 30 minutes) or with the number 2 tram, which travels along the banks of the River Danube, via the Hungarian Parliament building.
How to get there:
Nyugati Pályaudvar
can be reached by
metro, (number 2, blue line) or by tram 4 or 6, which runs
24 hours each day.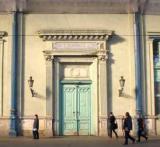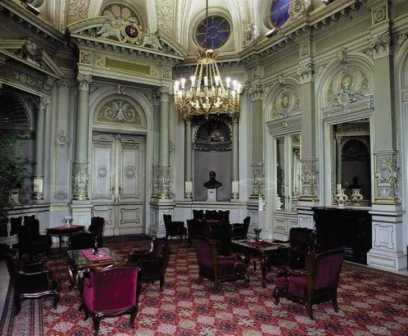 Above:
Exterior and interior views of the Royal Waiting Room at Nyugati Railway Station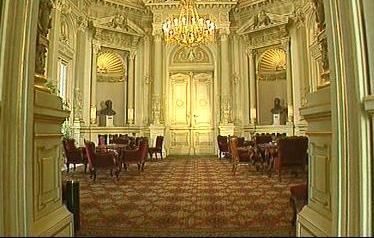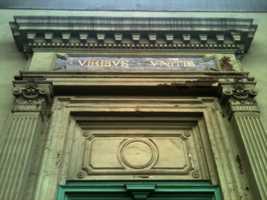 Above:
A short video clip of McDonald's at Nyugati Railway Station